Premier League 2011/12 Shirt Sponsorship Revenue goes up to £117.5 million
According to research on the sponsorship revenue of Premier League clubs, the amount of revenue generated by Premier League teams has increased by almost 20% in 2011/12 over that of 2010/11. The total value of shirt sponsorships was revealed by Sportingintelligence, and is broken down according to each club in the table below. Only one club in the Premier League sees a decline in the revenue from shirt sponsorship: Blackburn Rovers, from £1.5 million to nil. On the opposite side of the coin, Manchester City was the club which had the biggest year-on-year increase in shirt revenue: from £7.5 million to £20 million.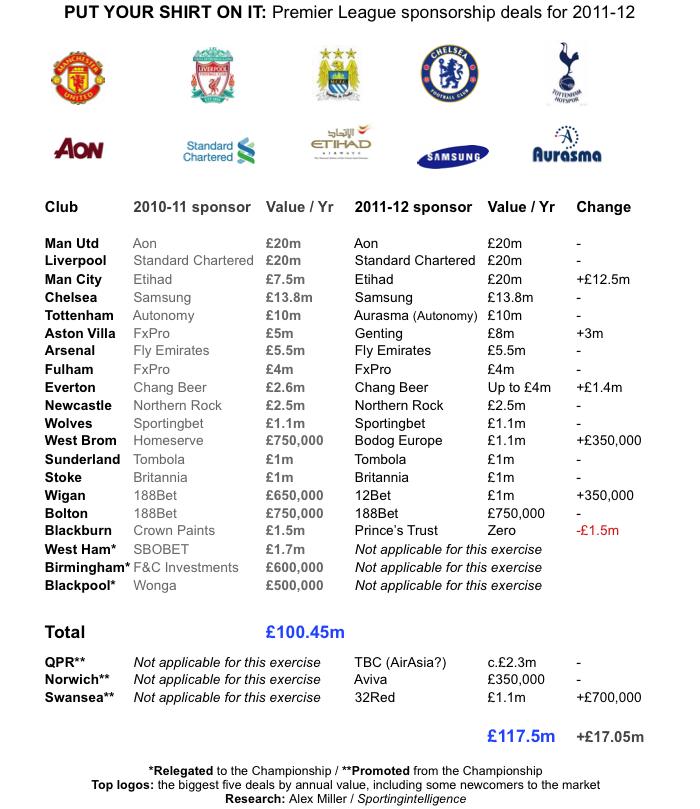 The £117.5 million total shirt sponsorship revenue generated by Premier League clubs in 2011/12 surpasses the total in Germany's Bundesliga, which took the lead for the 2009/10 season but fell behind England in the 2010/11 season. Seven of the twenty Premier League clubs have sponsorship deals with highly successful gambling firms. The figures indicate that the sponsorship of playing shirts generates additional revenue for the respective firms, which makes the proposal of spending such huge amounts of money on sponsoring clubs attractive and worthwhile.